Karok / Állványok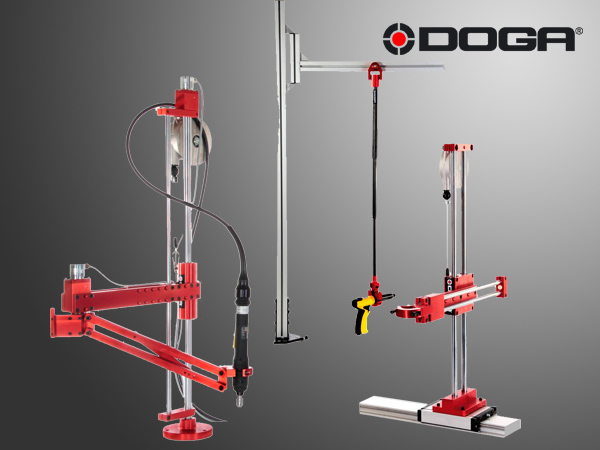 LINEAR REACTION ARMS
BA Serie: Smooth tightening operation and perfect perpendicularity until 100 Nm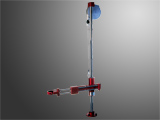 Erase Torque Reaction
Ensure perfect perpendicularity
Avoid illnesses
Suppress the tiredness
Improve the tightening quality
Reduce the absenteism rate
Improve productivity
BA 12 shown with EASY PUSH KIT and anti rotation clamp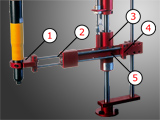 2 point-hole mounting
Strengthened sliding bush
Sliding bush with balls
2 point-hole mounting
4 point-hole mounting
ARTICULATED REACTION ARMS
BA R Serie are equipped with a rotating articulation enabling a high working flexibility. Swivelling and folding up like a human arm, they are particularly recommended for spaceless working places.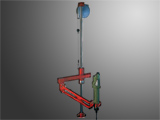 Optimum ratio performance / dimensions (ideal for spaceless location!)
Economical and versatile: possibility to use on the same arm every kind of tools (straight, pistol, angle drivers) thanks to the large choice of clamps
Higher comfort for the operator thanks to the articulated arm (less movement inertia and better positionning accuracy)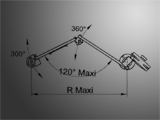 Maximum workstation coverage (R maxi) (recommended maximum workstation coverage with an arm inclination of 22.5° and an arm angle of 120°)
BA 5 R: 435 mm BA 40 R: 630 mm
BA 12 / 25 R: 445 mm BA 100 R: 715 mm
BA 12 R shown with EASY PUSH KIT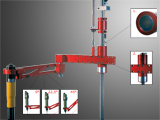 Sliding bush with balls


4 point-hole mounting
TELESCOPING ARMS
DMF Serie: Erase your torque reaction until 200 Nm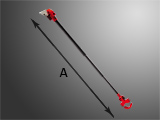 Confort: Easy to install on moving assembly line (mountable on existing standard rail). Require little space and doesn't disrupt flow production. Erase torque reaction of power tools.
Economy: Maintenance free thanks to the carbon fiber (no greasing). Long last of living thanks to the durable carbon fiber.
Productivity: Easy and quick operator handling thanks to the light weight carbon fiber.
SUSPENDED ARMS
SLIDER Serie: Erase your torque reaction until 80 Nm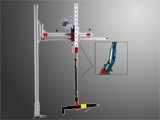 IMPROVE YOUR COMFORT AND PRODUCTIVITY
Easy to install and smart-sized the SLIDER arms improve the comfort of the operator and the productivity clearing the work area.


IMPROVE YOUR ERGONOMY
Mounted with horizontal stroke the SLIDER become the ideal ergonomical solution on conveyor line.
Accessories
Extend the workstation coverage of your slider arm!
TRAVELLING ARMS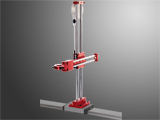 BA-C Serie Ideal for tightening operation on large surface or with repetitive tightening tasks.
DOGA POSI CONTROL
DPC-990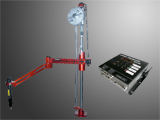 Secure your assembly process (detect screw omission, cross thread, ...)


Improve your staff flexibility (good job whoever the operator is)


Enable your standard air and electric screwdrivers to comply with your most demanding process monitoring requirements*
*The driver or controller must be able to give: Motor rotation - Shut off - Motor lock signals.
The DOGA DPC 990 is the ideal Sequencing, Error proofing and Positioning unit. Suitable with your Air, Electric and DC Tools, your Assembly process remains under control whoever the operator is !
Positioning Arms (X/Y)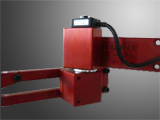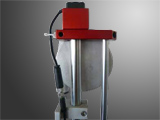 X and Y absolute encoders
Compact


Precise: 12 Bits (0,1°)


Maintenance free (contact less)

Az oldal Internet Explorer alatt nem fut helyesen!


© copyright 2013 Al-Bohacen Kft.